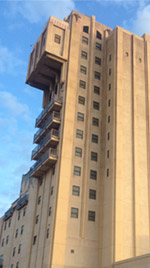 The Tower of Terror's backside is a rare sight for most park guests, as Disney likes to keep the "magic" under wraps and only let people go "backstage" as a part of special events and tours.
Recognizing the size of the attraction, Disney seems to deliberately place Tower of Terrors at the very edge of a park's property so that expansion beyond or behind it is unlikely if not outright impossible.  Even in spacious Lake Buena Vista, Florida, Disney hid the backside of the tower behind a wall of trees.
Enjoy these backstage photos – a rare glimpse into some "behind the scenes" magic (where "magic" means highways, back doors, and even a small BBQ chillin' backstage) 

Hollywood Studios
Getting a clear view of the Tower's backside in Hollywood Studio requires a bit of creativity.  The first photo in this ower of Terror backstage photos gallery was taken by Jack Spence while standing on a balcony at the Dolphin resort.
The Tower (circled in the map below) stands with its back to Buena Vista Drive and, just beyond it, the Swan & Dolphin Resort.
Disney California Adventure
The rather forbidding-looking backside of the DCA Tower of Terror is open to guests only during special events such as marathon races.
Tokyo DisneySea
The Tokyo DisneySea Tower of Terror backs up to the Disney Resort Line and a multi-lane park entrance road.
Disneyland, Paris