What's a Big Fig?
Appealing mostly to elite collectors (and elite wallets), Disney big figs (literally, "big figurines") are some of Disney's largest, most elaborate, and most expensive souvenirs. These replicas of beloved characters and park features are typically between 20" and several feet tall.
Tower Big Fig
Figurines of the Tower of Terror itself are, in general, quite rare.  Disney seems to prefer promoting the Tower through licensed characters and Hollywood Tower Hotel-themed merchandise like bathrobes and front desk bells.  But a few figurines of the Tower itself exist, and the biggest and brightest of all is this gorgeous DCA Tower of Terror replica.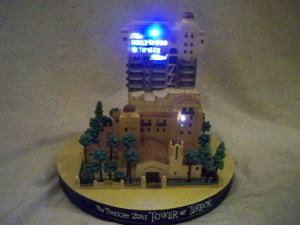 This Tower statue is not a "true" big fig (it's 9" tall whereas normally big figs are 20"+), but it widely accepted as "the Tower big fig" because it's the closest thing to a big fig Disney has made for the attraction.
The Tower of Terror big fig is 9" x 9" x 9" and made of carefully detailed cold-cast resin.  It is HEAVY – about 10 lbs.  Nearly two dozen individual trees decorate the exterior, along with a miniature fence perimeter, tiny window sills, roof tiles, detailed facade cracks, and light-up sign that flickers almost exactly like the sign of the real-life DCA Tower of Terror.
How to Find
This Tower replica is a must-have for any serious Tower of Terror and Disneyana collectors but Disney doesn't make 'em anymore, and at $200+ (if you can even find it for sale) it won't come cheap.  Stalking around eBay yields an occasional Tower big fig.  So if you're interested in adding this one to your Tower collection, keep an eye on eBay and may the force be with you!