Contrary to what the attraction's story might want you to believe, the Tower of Terror was not built in 1917. 🙂  Disney's construction crew cleared the site and broke ground in 1992. Discovery of a sinkhole necessitated a slight relocation of the build site. Construction continued until the ride and Sunset Boulevard opened together on July 22nd, 1994. (Source: Wikipedia article)
Exterior Construction
This aerial shot of the Tower of Terror's construction is the earliest one I've fond.  It gives a good sense of the scale of the building – look at those tiny trucks!  The gardens are just a pile of dirt, and the building itself is little more than a steel skeleton.  This photo is particularly noteworthy because it offers a rare glimpse into the area between the back lift shafts and the front drop shafts.
This next photo is somewhat of a rarity among Florida Tower of Terror construction photos because it's crystal clear!
This photo, depicting the building's left side (which is the side guests enter and exit) was taken shortly after the previous photo – you can tell by the completed rooftops in the back and the addition of the "front building" at the building's front.
This photo of the Tower's construction depicts some roofing details on the structure's front, details that appear to be missing from the previous shot.  Few other differences are noticeable, suggesting this photo was taken around the same time as the previous one.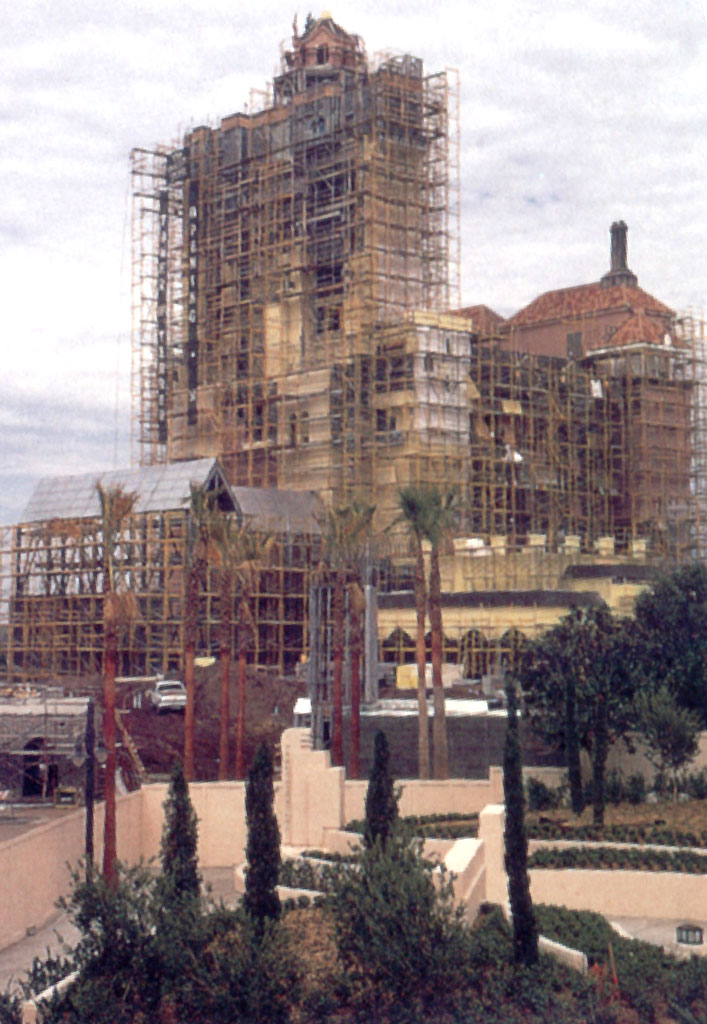 The lightning-scarred facade becomes recognizable in this construction photo.
Interior Construction
Taken just months before the attraction opened to the public in July, this May '94 photo shows the hotel's lobby midway through its own construction.  The walls have been painted and textured, and the light fixtures added, but the floor tiles have yet to be grouted and none of the iconic dusty decor has shown up yet.
Cranking up the Thrills
Disney legend has it that a ride designer rode an early version of the Tower and said, "If my tie doesn't fly up in my face, it's not good enough". A descent at normal "freefall" speed wasn't thrilling enough, so the ride's design eventually came to feature a "faster than gravity" pull. That's right – you aren't freefalling in the Tower, you're being pulled down (at about 30 mph).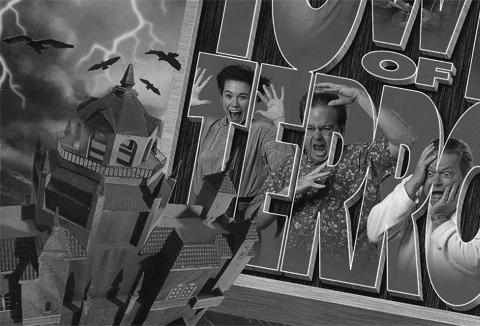 Opening Day
The Twilight Zone: Tower of Terror officially opened on July 22nd, 1994 featuring one gigantic drop. Reception was overwhelmingly positive, and the ride became an instant favorite for thrill-seekers and Disney fans. Over the following 20 years, the ride was reprogrammed a few times to add more drops, rumbles, and an element of randomization to differentiate repeat rides.