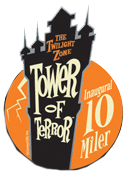 Beginning in 2012, The Twilight Zone Tower of Terror 10-Miler (official site here) is an annual late September/early October night-time running event beginning and ending at Hollywood Studios, Florida.  The TOT 10-Miler is a reincarnation of the now-retired Tower of Terror 13k.  Numerous other events and parties accompany the TOT 10-Miler, including kids' races, a til-4am villains bash, and access to Hollywood Studio rides.  Better save some energy after that run!
And in case you were wondering just how many people would sign up for a night time run through Florida's late-summer mugginess:
All 10,000 spots in the race sold out for the 2013 run.
The Course
The course starts at the Hollywood Studios entrance, marches down Osceola Parkway, turns around at Animal Kingdom, runs back over Osceola Parkway, winds through the ESPN Wide World of Sports complex, and returns to Hollywood Studios for a grand finale jog through the park towards the finish line.
Running at Disney provided excellent coverage of 2013's Tower of Terror 10 Miler.