The Tower of Terror's spooky queue and pre-show atmosphere is enhanced by a one-hour loop of otherworldly background music from the jazz era.
Listen to the entire Tower of Terror background music loop on YouTube.
Background Songs
"Alabamy Home" by Gotham Stompers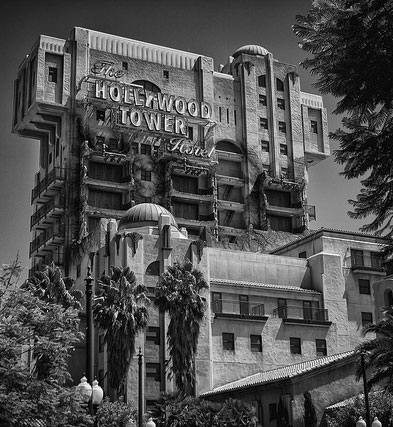 "Another World" by Johnny Hodges
"Can't Get Started" by Bunny Berigan
"Dear Old Southland" by Noble Sissle
"Deep Purple" by Turner Layton
"Delta Mood" by Cootie Williams
"Jeep's Blues" by Johnny Hodges
"Jitterbug's Lullaby" by Johnny Hodges
"Jungle Drums" by Sidney Bechet
"Mood Indigo" by Duke Ellington
"Sleepy Time Gal" by Glenn Miller
"There's a House in Harlem (for Sale)" by Henry Allen
"There's No Two Ways About It" by Frankie Newton
"Uptown Blues" by Jimmy Lunceford
"We'll Meet Again" by Vera Lynn
"When the Sun Sets Down South" by Sydney Bechet, Noble Sissle's Swingsters
"Wishing (Will Make it So)" by Vera Lynn
Disclosure: If you enjoy the Tower's queue music, your purchase through these Amazon affiliate links helps support this site!