All four Tower of Terror attractions offer FastPass, Disney's popular "virtual queuing" system that allows guests to grab a pass and skip the long standby line by returning at a later time.  The old ticket-based Fast Pass system is being phased out at the time of this writing (2013) in favor of Disney's new all-digital FastPass+ system.
The FastPass tickets look something like this, depending on which park you get 'em at:
Wait, what is FastPass?
The FastPass system was introduced in 1999 to help reduce line waits.  The FastPass system is free to all park visitors! 
Guests  insert their park ticket into an attraction's FASTPASS machine to receive a pass granting access to the (usually much shorter) "FASTPASS line" during a 1-hour window later that same day. AllEars has the full scoop on Disney's FastPass system.
FastPass Strategies
Grab a FastPass for the most popular ride(s) early!
Despite its age (20 years in Florida, 10 years in California, and a bit younger elsewhere) the Tower is still a massively popular ride. Tower of Terror FastPasses run out by mid-day even on off-peak weekdays!  But standby lines are shortest in the morning, so if you want to get in a lot of Tower, get to the park early.  Grab your FastPass for an even more popular headliner (in DCA that'd likely be Cars Land, and in Hollywood Studios that would be Toy Story Midway Mania and/or Rockin' Roller Coaster) and hop onto the Tower a few times before it fills up.
Use FastPass for repeat rides
Even if the standby line is short, consider grabbing a FastPass anyway – the line might be long by the time you've exited the ride, and your FastPass guarantees you'll get to go again as soon as you're in the time window.  Sometimes the opportunity for a new FastPass ticket will begin within 5 minutes of just having received a ticket!
Tower of Terror FASTPASS Locations
All four Towers of Terror offer FastPass.  The tickets are dispensed from covered kiosks located near the Tower itself.
Hollywood Studios Tower of Terror Fast Pass
FastPass Location: On the pathway leading to the Tower of Terror's entrance gates
Disney California Adventure (DCA) Tower of Terror Fast Pass
FastPass Distribution: Directly across from the Tower's entrance gates
Tokyo DisneySea Tower of Terror Fast Pass
A note for those curious about Tokyo DisneySea – FastPass is apparently a little more competitive in Japan.
FastPass Distribution:  To the right of the Tower's entrance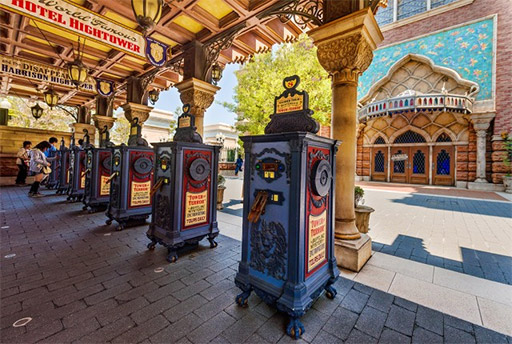 Disneyland Paris Tower of Terror Fast Pass
FastPass Distribution: To the right of the Tower's entrance
What About FastPass+?
Disney is in the process of replacing the existing Fast Pass system with the new Fast Pass+ system.  The new system lets guests use computer kiosks to choose FastPass attractions and, to an extent, times (the computer chooses the times for you but you get a couple choices to pick from).  Unfortunately, as of my most recent visit to WDW in December 2013, guests are limited to just three FastPasses total per day.  And there's no loading up all your FastPasses for one attraction to ride repeatedly.  And, sadly, there's no more little tickets to hold onto – just a snapshot of your times taken with your camera or phone, assuming you brought it with you into the park.
There's no hiding it – as a big FastPass ticket user, I am bummed about this change. But Disney is continuing to experiment with the system, so there's hope that it will improve and maybe some of the aspects of the old ticket system will come back.
Either way, Disney is quickly gearing up to make MyMagic+ and FastPass+ the wave of the future, so enjoy the old FastPasses while you can!