Hosted by runDisney, the Tower of Terror 10 Miler is an annual nighttime race held at Walt Disney World in Florida in late September/early October.  The race ends near the Tower of Terror, and the race's name and promotional material are Tower-themed.  Alas, it is not a race through or up the Tower, it's just near the Tower!  This is not an easy race – even if 10 miles is no problemo for you in your hometown, the sweltering Florida heat and stifling humidity add an extra bit of challenge to the run.
Sarah over at Running at Disney wrote an excellent recap of her experience running in the TOT 10 Miler.
2012
Date: September 29, 2012
Entrance fee: $90
The inaugural Tower of Terror 10 Miler!  The TOT 10 Miler replaces the Tower of Terror 13k.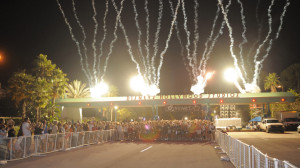 2013
Date: October 5th, 2013
Entrance Fee: $135
The second Tower of Terror 10-Miler sold out, with 10k runners admitted.