First opened to the public in 1994, the Twilight Zone Tower of Terror has been delighting guests across the world for nearly 20 years.  The first Tower opened in 1994 at Hollywood Studios in Walt Disney World, Florida. The subsequent three have brought excitement to Disney's California, Paris, and Tokyo parks.
Three of the Towers are set in a "lost episode" of the classic American sci-fi television show, The Twilight Zone, while the Tokyo version features an original storyline and setting. While speculation abounds, there are currently no publicly known plans to build a fifth Tower of Terror in any other Disney park.
For a handy comparison of the four towers, check out the Tower Comparison Chart.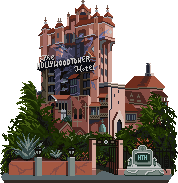 Disney's Hollywood Studios – The Twilight Zone Tower of Terror (Florida) – 1994
The original Tower features the "5th Dimension" scene not included in any future versions of the attraction.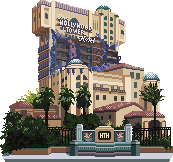 Disney California Adventure – The Twilight Zone Tower of Terror (California) – 2004
A revised ride system compacts the structure and saves on costs while adding a couple new surprises.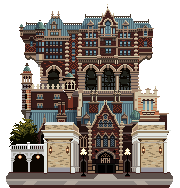 Tokyo DisneySea – Tower of Terror (Tokyo, Japan) – 2006
Completely re-imagined architecture, setting, and story gives the DisneySea park a unique Tower of Terror even though it's mechanically identical to DCA and Paris.
Walt Disney Studios Park – The Twilight Zone Tower of Terror (Paris, France) – 2008
Identical to the Disney California Adventure version (save for a few tiny details).  Its French name is a real treat: La Tour de la Terreur – Un Saut dans la Quatrième Dimension